Save America
By: Dr. Everett Ramsey


Only God can save America, but His people must repent. In the United States of America, there are now 309 million people. White people make up 75% according to the United States Census bureau. When you take out those of mixed race, who claim to be white and the non-European population, you have a total white European population of less than 70%.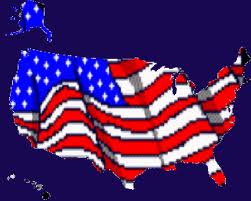 Only God can save America and chang her course. This is important when you consider the latest Gallup poll states that 75% of American claim to be Christian and less than 60% claim to be born again. While this survey cuts across racial lines, it is the white European migrants to this country and their descendants that have always carried the Christian faith.
Up until the 2008 election, the Christian vote had mandated that any candidate who expected to win would at least make strong claims and some evidence that he was of the Chrstian faith even if he did not live it. Barack Obama is the first president elected who openly professed a Muslim background. He was elected with the help of millions of professing Christians. Only God can save America.
So, what happened to Christian America? Barack Obama campaigned on an unbiblical socialistic program and in his first two years of office has probably destroyed the foundations of American Liberty, economics and moral fabric until it cannot be fully restored. Only God can save America.
How and why did the American people get suckered into this quagmire of unrighteous and unholy government? The answer is simple. Current Americans, including current professing Christians are not Christians in reality. How can I say that?
Because the Biblical definition of a disciple, a follower of Christ, a Christian is an individual who learns the laws of God and lives by them instead of the laws of men. Only God can Save America.
Luke 6:46 And why call ye me, Lord, Lord, and do not the things which I say?
Those laws require Christians to have no other God (no other laws)
John 1:1 In the beginning was the Word, and the Word was with God, and the Word was God.
Only God can save America. To get your free copy of "Handbook of Biblical Laws" these laws of God that America has been and is breaking, just send us an email at the end of this article.
All of our government give away programs are unlawful and nothing more than government stealing the money from the working class and giving it to the non working class.
Government promotes sodomy, adultery, stealing, cheating, lying and all other forms of ungodly activity with your labor dollars by their welfare subsidy corruption and graft. Only God can save America.
America's Christians violate the laws of God every day by their toleration in law and political correctness, interracial sex and union, sodomy, lesbianism and same sex unions, divorce and re-marriage, which is adultery in God's laws and the allowing and funding of aborticide, which is murder under God's law.
In the old Covenant these sins were not allowed to propagate because the offenders were executed.
God Save America
America does not execute sinners. But God will hold preachers, pastors, government officials, especially judges, and voters guilty for allowing these sins to continue and grow. More seriously, God will hold the nation accountable. God save America.
How does God do this? He allows the land to be filled with violence, terror and an all powerful human dictatorship with robs the assets and life from the people of God.
If you claim to be a Christian, you are claiming to be one of God's Children, one of His people, one of His Elect.
One of the signs that you are in fact one of His is that you obey His law.
1 John 2:3 And hereby we do know that we know him, if we keep his commandments.

4 He that saith, I know him, and keepeth not his commandments, is a liar, and the truth is not in him.

3:22 And whatsoever we ask, we receive of him, because we keep his commandments, and do those things that are pleasing in his sight.

24 And he that keepeth his commandments dwelleth in him, and he in him. And hereby we know that he abideth in us, by the Spirit which he hath given us.

5:2 By this we know that we love the children of God, when we love God, and keep his commandments. 3 For this is the love of God, that we keep his commandments: and his commandments are not grievous.

II John 1:6 And this is love, that we walk after his commandments. This is the commandment, That, as ye have heard from the beginning, ye should walk in it.

Revelation 12:17 And the dragon was wroth with the woman, and went to make war with the remnant of her seed, which keep the commandments of God, and have the testimony of Jesus Christ.

14:12 Here is the patience of the saints: here are they that keep the commandments of God, and the faith of Jesus.

22:14 Blessed are they that do his commandments, that they may have right to the tree of life, and may enter in through the gates into the city.
Judgment is inevitable to the disobedient. God Save America. God Judges His People for Sin
Amos 3:2 You only have I known of all the families of the earth: therefore I will punish you for all your iniquities.

Hebrews 10:30 For we know him that hath said, Vengeance belongeth unto me, I will recompense, saith the Lord. And again, The Lord shall judge his people.
You cannot have "God Bless America" without obeying Him. God is withdrawing His blessing to us because we have sinned and keep on sinning.
Only God can change things, only God can save America, but He will not do that until we repent. We won't repent until we know the laws we have broken, which creates our sin against God.
I John 3:4 Whosoever committeth sin transgresseth also the law: for sin is the transgression of the law.
Get your free book, Handbook of Biblical Law" by sending the form below.